Frequently Asked Questions about ABSCo Products
Bike Lockers
1. What is the difference between the 300 series and 350 series bike lockers?
There are 2 main differences.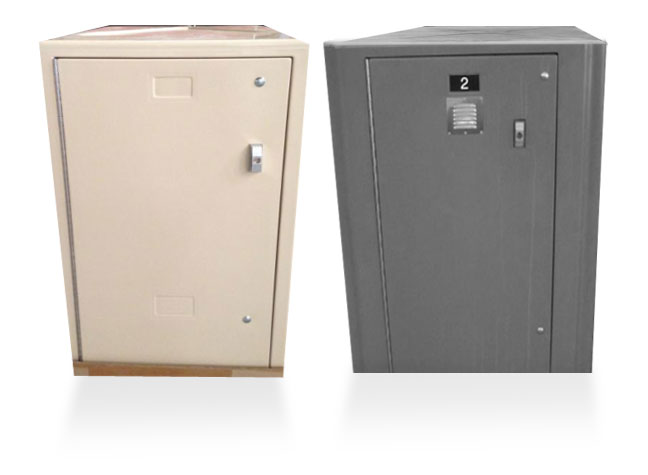 1. The way they are molded. The 300 series is molded as one piece which means no assembly is required, whereas the 350 series is modular which means assembly is required.
2. Colors and standard hardware differ between series. The 300 series includes basic hardware such as a Chrome T-Handle Lock, or Padlock Handle, and Anchors. The standard colors for the 300 series are Medium Gray or Tan. The 350 series includes a stainless steel Medeco/Abloy T-Handle Lock, or Padlock Handle, with adjustable anchor brackets, gears hooks, numbers plates, and vents. The standard colors for the 350 series are Blue, Café, Green, Medium Gray, Tan, Teal, or White.
2. What is the difference between fiberglass and steel lockers?
Steel is solid, strong and durable. Fiberglass is the same, but is also less expensive, lighter, and easier to maintain. Fiberglass does NOT dent, rust, or chip. Fiberglass is used in high end cars such as Corvettes, and Shelby's, as well as, the aerospace industry such as NASA.
3. Do the bike lockers come standard with floors?
No, our bike lockers do not come standard with floors. However, floors are an optional feature and can be added to any model upon request.
4. Are the bike lockers waterproof? Or air tight?
Our bike lockers are not air tight due to safety concerns. We offer an optional weather stripping feature that will help to keep water out.
5. With the 300 Series, do the T-Handle Locks come with a master key?
No, the standard T-Handle Lock for the 300 Series cannot be master keyed. However, you can upgrade to have a master key system by using Part No. 012 or Part No. 015, upon request.
6. When do you recommend using a vent on the locker?
A vent is recommended in areas of high humidity, where moisture will build up. For example: next to bodies of water or in places where it rains frequently. We have two types of vents to choose from: Part No. 030 (which is comes standard on the 350 Series) and also Part No. 035 (known as our High-Flow Ventilation system, which uses a Solar Day/Night exhaust fan to keep the air in the lockers moving). Our DBL1 & DBL2 (Steel Lockers) come standard with a ventilation window on each door.
7. Are your bike lockers made of recycled materials?
We do offer bike lockers that are made from recycled materials with our new "ECO" Series. Our "ECO" Lockers are still manufactured out of our high strength fiberglass composite materials using a NEW resin with 25% recycled plastic content. Our "ECO" Lockers are available in all models in both 300 Series and 350 Series, upon request. They are available in standard or custom colors and with all options. Our "ECO" Lockers provide those valuable points for your "LEEDS" projects and are manufactured exclusively by American Bicycle Security Company™. Another option would be our DBL1 or DBL2, which is made from 99% recycled Steel.
8. Can you custom match a color for the lockers?
Yes. There is an up charge to do a custom color. The process to do a custom color match requires a sample to be sent to us. Then we would send that sample to our supplier to be analyzed through a laser spectrometer to generate a color code. Once the color code is generated, we will be sent back a small batch for us to make a sample on the same material that the locker is made out of. We then send the sample to the customer for approval.
9. Can you do logos on the lockers?
Yes we can. There are few places where we can apply a logo, like the door or in the center of the "X" pattern on the walls. The process to do a silkscreen logo is to send us an image of the logo with a minimum requirement of 300 dpi for resolution. We will also need color of logo and color of locker. For custom colors, see above.
10. Can the 300 Series have all the accessories that the 350 series offers?
Yes, the 300 series can be upgraded to have all the same accessories as the 350 series, or you can pick and choose which ones you would like. The advantage of the 300 series with an upgrade, over the 350 series, is that you do not have to assemble the 300 series. The 300 series lockers come already assembled and ready for installation. The 350 series requires assembly on site before installation.