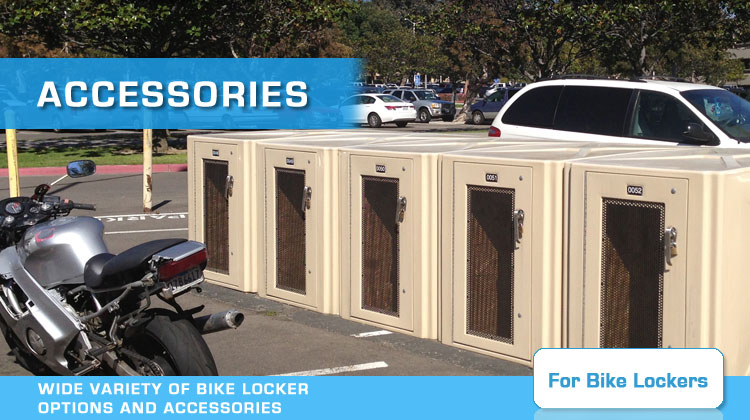 Bike Locker Options & Accessories by
American Bicycle Security Company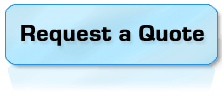 Enjoy the wide variety of our Bike Locker Options and Accessories. We offer various locking mechanisms, ventilation systems, safety-view windows, as well as options of colors and screened / enlayed logos. Please give us a call at 805. 933.3688 or contact us using our Contact Form and we will be happy to discuss these options with you!
Click here to download our locker options cut sheet!
Available NOW! – PN# 010 – PADLOCK/U-LOCK HANDLE

Handle lockable with both Padlocks and U-Locks
Our new and improved Heavy duty stainless steel Padlock handle, now with the ability to accommodate high security Padlocks AND U-Locks. For U-Locks from 1/2" to 3/4" Diameter. Padlocks and U-Locks not included.

For a "How to Use" Video: Click here!

Keypad Lock

With or without Cover (Shown without)
For those of you that want to go keyless, we have two GREAT options for you! One is our new keypad lock provides user friendly bike security to the public or for assigned use. Great for transit stations which are open to the public, or businesses, which can be assigned to specific employees. Keypad Locks are not weatherproof, but when used with our Weatherproof cover, locks will be able to handle the elements. *Also available: ADA compliant locks for either system. COMES STANDARD WITH DOOR HOLD/CHECK

For more info: Click here!

RFID Lock

With or without Cover (Shown with)
Our second keyless option is our RFID lock, which allows users to simply tap their key card to open the lockers. Already have an identification card, or company card in place? No worries! Mifare RFID stickers are available upon request, and can easily be placed on existing cards. In most cases, we can work with your existing card. RFID locks are not weatherproof, but when used with our Weatherproof cover, locks will be able to handle the elements. *Also available: ADA compliant locks for either system. COMES STANDARD WITH DOOR HOLD/CHECK

For more info: Click here!

011

Chrome T-Handle Locks
Standard lock option for the 300 series. Comes with 3 user keys per lock. NON-Master keyable. COMES STANDARD ON 300 SERIES

For a "How to Use" Video: Click here!

012

Master-Keyed Chrome Plated T-Handle Locks
Abloy high security cylinders. 3 user keys. 1 master key include per order. Additional Master keys available – contact for information. UPGRADE FOR 300 SERIES ONLY

015

Abloy Locks
Stainless steel high security "T" Handle locks with 3 user keys.
Master key series no extra cost must spec on order. 1 master key include per order. Additional Master keys available – contact for information. COMES STANDARD ON 350 SERIES

020

Locker Numbers
Numbers are 1.25 inch height. Each order starts with 1 unless specified otherwise, may be alpha and numeric. Engraved numbered labels are fastened to doors. COMES STANDARD ON 350 SERIES

030

Ventilation System
Includes stainless louvered vents one per door. Recommended to increase air circulation for areas of high temperature, humidity or dampness for cross ventilation. COMES STANDARD ON 350 SERIES

 

035

"High Flow" Ventilation System
Solar-powered ventilation 24/7. Highly recommended for areas of high temperature, humidity or dampness. This system will move 24,000cuft air per day* providing the utmost in locker ventilation. System includes louvered stainless steel vents on each end of the unit for air in-flow with a high volume stainless steel Solar Day/Night exhaust fan on the top of the locker.
*Equal to removing all of the air in a Model #302 locker 285 times a day.

 

040

Gear Hooks
2 per locker. Hang up your helmet, riding accessories or clothes for the next work day. COMES STANDARD ON 350 SERIES

Top

050

Door Hold / Check
Will keep door full open when parking or removing bike or closed position when not in use. Recommended for locations with self serve parking (padlock or coin operated) to keep doors closed when not in use. Also keeps doors from swinging into user if lockers are placed on a sloped site. COMES STANDARD ON LOCKERS WITH ELECTRONIC LOCKS

 

067-069

Floors
Fiberglass composite floors, installed in factory. Available for models 301P, 301, and 302.

073

Safety-View Security Windows
Window in locker door 12″ X 12″ specify Lexan or Perforated steel powder coated

074

Safety-View Security Windows
Window in locker door 16″ X 36″ specify Lexan or Perforated steel powder coated

 

080-086

Interior Walls / Diagonal / Outside Walls
Safety-View windows for interiors walls, diagonals, and outside walls are available for all lockers (excluding model 301WL). Walls are perforated steel with choice of 2 materials with viewing opening of 40 ½"H X 53"L

Stacking Bike Lockers

Stacking / Two Tier Lockers / 300 SERIES ONLY
This feature allows you to stack the lockers providing twice the parking in the same foot print as one unit. The upper level lockers are specially built for this application with the locks located lower on door for easy access. When specifying stacked lockers must specify the number of upper and lower units with lower units using the standard model numbers and the upper units having model number followed by "U". Only like models can be stacked. Grouping of units recommended for stability.

Custom Color

Ask for our full color chart and choose from a greater selection of non-standard colors or we can match color from a sample provided by customer.

SCREEN

Logo & Screened Images
Screened logos and text can be imprinted in the locker surface with the same high quality gel coat used in all locker finishes. With our unique process the Logo/Text is applied in the lamination process, in the mold such that it is not a surface coating or paint.

Bike Locker Signs

Install on Locker or Post
The best bike parking can go un-used if the public or employees are unaware of its availability. They might not know how to use or gain access to the lockers! Help enhance your bike parking program with locker signs. Our standard signs come with a white background and a variety of text colors to choose from. Create your own verbiage or choose from one of our templates. Custom colors are available upon request.

Top